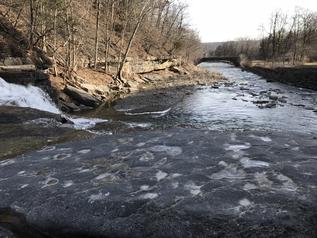 Water flows under thin ice sheets
Depending on the year, spring-like temperatures may wait until the end of March of mid-April to appear in full force. Taughannock sheds its ice and snow and, through a gradual warming of temperatures, starts to grow a fresh coat of green once more.
In late March, the Ithaca Polar Plunge raises money for New York's Special Olympics athletes. Who doesn't love a swim in Cayuga Lake, any time of the year?
Once temperatures moderate consistently past the freezing point, the park re-opens the North Rim Trail stairs and the bottom half of the South Rim Trail, giving hikers and runners a road-free loop option once more.
Spring's last days go out with a volunteerism bang. I Love My Park Day, a statewide event held the first Saturday in May, brings volunteers into the park to help with a variety of projects to get ready for the summer ahead.
Spring Videos, Photos & News
More Posts